JOIN HANDS WITH

YEWALE TEA
Unlike other tea shops in India, Yewale Amruttulya makes tea only out of milk and offers other varieties made of jaggery, ginger, lemon etc. The tea powder used for making the tea is unique and is prepared at Yewale's house to ensure seamless taste, quality and uncompromised flavour at each of the franchise locations.
Why Yewale Amruttulya ?
One of the Fastest Growing Brand in India
India's 1st Chef Less and Owner Free Model
Daily Consumable Process
Same Taste and Standardization for all Outlets Across the Country
Variety of the Product Range,Even Product Price with Affordable Prices
Built-in Customer Base Brand Recognition
0% Royalty & Commission Franchise Model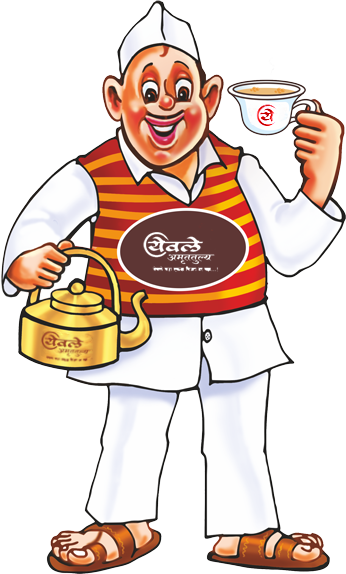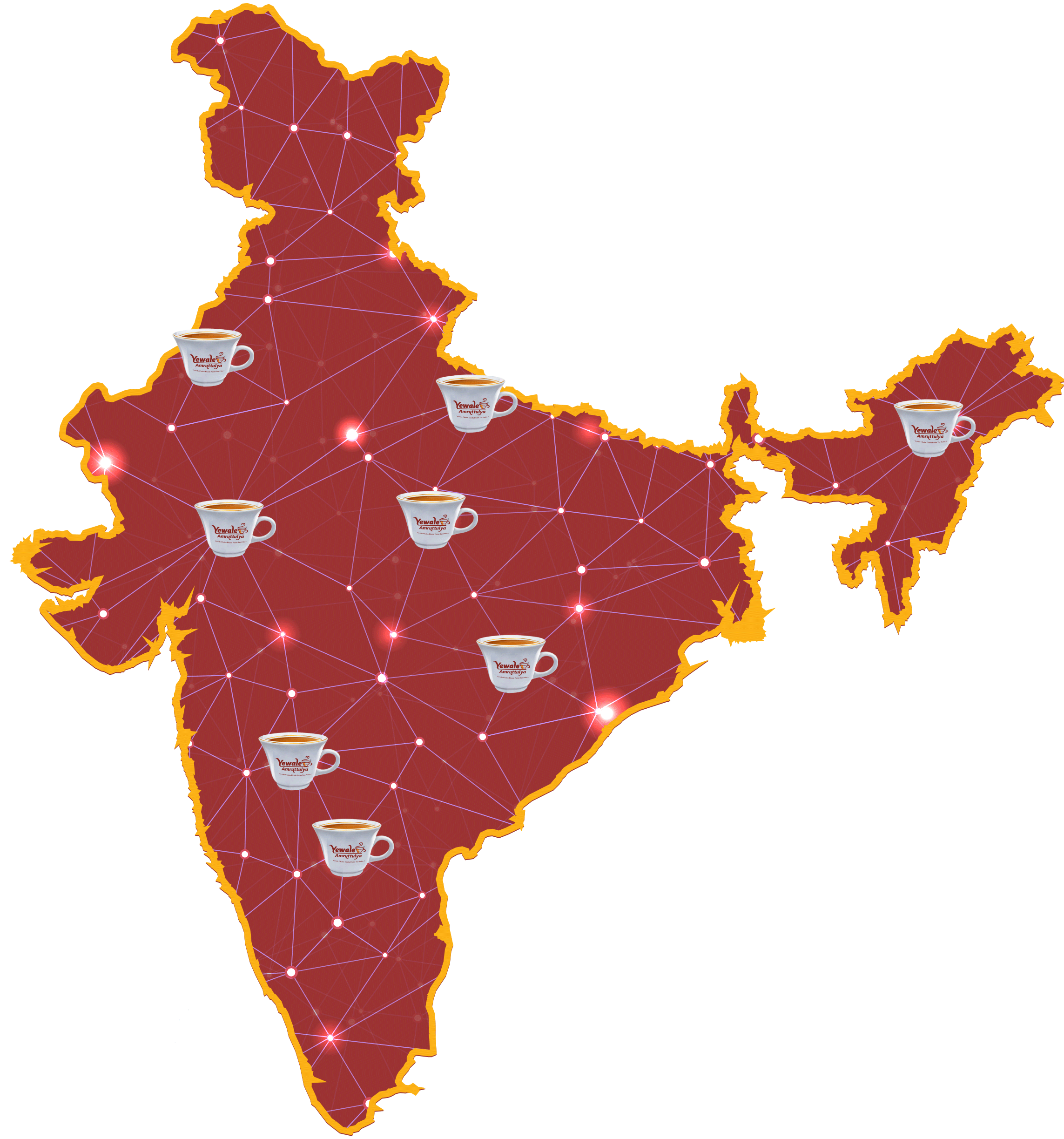 Bharti Vidhyapeeth
Mandai( Faraskhana)
Sadashiv Peth
Shivaji Nagar
Wakad
Pimpari
Deccan
Mamledar Kacheri
Kondhawa
Wagholi
Rasta Peth
Khadki Bazar
Gokhale Nagar
Muktangan
Hinjewadi, PH -1
Vanaz Corner, Kothrud
Saswad
KHARADI BYPASS
Wadia College
Rakshak Chouk, Kharadi
Fadke Haud
Magarpatta-Nobel
Viman Nagar
Sinhgad Road
Baramati
Navi Sangvi
Chinchwad
Pirangut
Chakan
IBM - Fursungi
Fatima Nagar
Alandi
Magarpatta-DC
YCM- Pimpri
Hadapsar-Gadital
Raviwar Peth
Shivane
Airport Road
Chandan Nagar
Talawade
Mahalunge
Market Yard
Katraj
Bhosari
Dange Chouk
Shikrapur
Wadgaon Sheri
SHIRUR
Baner
Chinchwad Stn.
Thurmax Chouk
Kharadi(EON IT)
Sane Chouk, Chikali
Aundh
Bhigwan
Rajgurunagar
Sangamner
Ranjangaon
Indapur
Koregaon Bhima
Pernae Phata
Kamshet
Walhekarwadi, chinchwad
Akurdi
Alefata
dighi
Lonawala
Pune Narayangaon
MANCHAR
Somatane Phata
Wadgaon Maval
Lonand
Jejuri
Karegaon, Shirur
Lohgaon, Pune
Manjari, Pune
Hinjewadi, PH -2
Junnar Bus Stand
Nasrapur
Pimple Saudagar
Wagholi
Rahatani, Pune
Mantri Height, Viman Nagar
Dapodi , Pune
Alandi-Markal Road
Shankar Kalat Nagar, Wakad
Ravet Akurdi Station
Hinjawadi Kasarsai
Shankar Kalat Nagar, Wakad
GOKULPETH
LOKMAT CHOWK
Tiranga Square
Sadar Bazar
Nagpur Nandanvan
Nagpur CRPF Camp
Nagpur Tiranga
Mahal, Nagpur
SHIRDI
SANGAMNER
Proffesor Chowk, A'Nagar
Sahyadri Chowk Ngr.
Pandharicha pool
Loni Pravra Nagar
Ahmednagar Rahuri
A'Nagar Kashti
GHULEWADI PHATA, SANGAMNER
Ahmednagar Supa
Rahata
Newasa Phata
Mirajgaon, Karjat
Swatik Chouk, Ahmednagar
GULMANDI
Aurangabad Sut girni Garkhed
Aurangabad Cannot Garden
Aurangabad Hattesinghpurra
Aurangabad Railway Station
BAJAJ NAGAR MIDC, Walunj, Aurangabad
GANGAPUR ROAD
BITCO POINT
TRIMURTY CHOWK
SHALIMAR CHOWK
TRIMBAKESHWAR
SINNER
Nashik DWARKA CORNER
Nashik Panchvati
Satana
Pathardi Phata
Pandhurli(Sinner)
Adgaon, Nashik
DWARKA
LONAND
PHALTAN
RAVIVAR PETH, SATARA (Girgaon Relocation)
Khandala, Satara
UDGIR
LATUR BUS STAND
DAYANAND COLLEGE
Latur Basweshwar chowk ring road
Apparao Chowk, Udgir
PARK CHOWK
KUMBHAR VES
ASARA CHOWK
SOLABUR KOMTE NAKA
PANDHARPUR
AKLUJ
SANGOLA
Tembhurni(Kurdwadi road)
Kurduwadi
Madha Solapur
TULJAPUR
KALAMB
Osmanabad Bus stand
BARSHI BUS STAND
Tamalwadi, Tuljapur
NANDED ITI CHOWK
TARODA NAKA
Nanded WAGHALA
JALNA BUS STAND
Ambad road, jalna
Jalna, Opposite jain Mandir
WORLI NAKA
BELAPUR
Sanpada Rly.Sta. Mumbai
Nerul Rly.Sta. Mumbai
Dombiwali (E), Mumbai
Washi Rly. Stn., Mumbai
Kharghar,Navi Mumbai
Seawood (W), Navi Mumbai
Mulund (E), Mumbai
Korum Mall, Thane(W),Mumbai
andheri €
Vashi APMC
KOPERKHAIRANE
Kalyan Thane
Ghansoli
Chembur
Thane railway station
Masjid Bandar
Vashi (jalaram market Turbhe)
Ulhasnagar 2
Meera road
Diwa (Nr.Dombiwali)
KALYAN (W)
Varali
Kanjurmarg(W)
Dombiwali (W), Mumbai
Dadar (W)
GRANT ROAD MUMBAI
Ulhasnagar 4
Masjid Bandar (Mumbadevi)
Airoli Rly.Stn.(W)
Dadar €
Naupada
Khar station
Sion
Ambernath(West)
Kurla (E)
Jambhali naka
Turbhe Naka
Prabhadevi
Bandra (w)
Badlapur(w) station
Kharghar (Shilp Chowk)
Chembur (Sindhi Camp)
TEMGHAR BHIWANDI
Khadakpada kalyan(w)
Gowandi mumbai
jogeshwari € stn police chowki
Malad (E)
Ulwe sector 3
Dharavi
AMBADI ROAD, VASAI W
Ambernath east shivaji chowk
kongaon bhiwandi nr reliance petrol pump
Saki naka mumbai
Mumbra(SANTOSH NGR OPP MASJID)
Kurla west station
Dahisar East Railway Station
CST Fort
Bhiwandi opp st stand
LOWER PAREL Monorel rly stn
KOPARI(E)RAILWAY STATION
Kalbadevi
nalasopara w
Dombivali East
Andheri East Marol Naka
Kandiwali west
Kalyan East
MILL ROAD BAZAR WARD, KURLA
Shahad East Thane
Goregaon West
Anjurphata Bhiwandi
Bhiwandi bhaji market shivaji nagar
Boriwali East
Tardeo Mumbai Central
Sion West
Vileparle East Station
Mahakali Road Andheri East Midc
Vartak nagar Thane
Ghodbandar Road Thane West Manpada
NILJE
Dadar west bhaji market
Matunga East
Virar West Station
Kalva Station
Bandra East
Lower Parel West Station
Badlapur East
Andheri East(santacruse west)
Charni Road
Bhayender East
Kalyan East
Ghatkopar East Station
Mangaon, Raigad(Bhandup Relocated)
Bhandup West
Kanjurmarg East
Mumbai Central
VILEPARLE WEST
GRANT ROAD
MAHIM WEST
Shivdi
Goregaon East
Boriwali West Station
Kandivali East
Malad West
Ulwe
Badlapur E
Nerul Lp
Ambernath w
Mahape
Girgaon
Mankhurd
Santacruse
Santacruse
Cargo, Andheri
Belapur
Mulund West
Wadala
Majiwada Thane
 Khar west station
Parel, Mumbai
DRONAGIRI, Navi Mumbai
VITA SANGLI
Sangali Station Road
Islampur(Sangli)
Sangali Vishrambaug
Tasgaon
Panvel
pen (opp nagarpalika st stand)
Kamothe(khandeshwar)
Alibag
Ulwe sector 3
New panvel
Khopoli
KAMOTHE(MANSAROVAR)
Raigad Roha
Ulwe Sector - 2
WADHKHAL GAON(PEN)
Mahad
ulwe
Uran
Padeghar
Shilphata, Khopoli
Mangaon, Raigad(Bhandup Relocated)
Karjat Railway Station , Karjat
Koproli, Uran
KOLHAPUR BUS STAND
Karvir, Kolhapur(Gandhinagar)
Dhule (MAHARANA PRATAP CHOWK)
Dhule(Datta mandir chowk)
Dhule Prabhakar Talkies
Shegaon
Chikhali(BULDHANA)
CHIKHLI ROAD, BULDHANA
Karanja Chowk, Buldhana
Vasmat
Mahavir Chouk, Hingoli
Amravati (Warud)
Amravati
CHANDRAPUR
Tukum , Chandrapur
Ghugus, Chandrapur
Gondia
Isarka Market, Gondia
Mama Chowk, Gondiya
BELGAON shivaji garden
BELGAON
Karnatak BIDAR
Ganpat Galli,Belgavi
Tumakur
Chappan Dukan(Indore)
BHAWARKUA, Indore
Usha Nagar, Indore
Rajwada, Indore
Khandwa, MP
Sukhdev Nagar, Indore
Bengoli Square, Indore
Silicon City, Indore
Bholaram Ustad Road, Indore
Sarwate Bus Stand, Indore
SCHEME NO. 54, INDORE
MR 10 Road, Indore
Scheme No. 140, (GREATER BRAJESHWARI) Indore
Mahalakshmi nagar,Indore
Rajmohalla,Indore
Rajendra Nagar,Indore
Anand Bazar,Indore
Bombay Hospital,Indore
Chhota Bagarda Road,Indore
Navlakha,Indore
Hawa Bangla, Indore
Scheme 113, Indore
Manik Baag, Indore
KAILASH PARK (Geeta Bhavan) ,Indore
Gandhinagar Indore
Scheme no 103, Indore
Khandwa Road, Indore
Sanwer, Indore
Lasudia Thana, Dewas Naka, Indore
Aurobindo, Indore
LAXMI MAHAKAL CHOWK, UJJAIN
Bhopal , MP
Freeganj,Ujjain
Nanakheda, Ujjain
Nagda junction,Ujjain, MP
Kela Devi Mandir Road, Dewas
Dewas
Indrapuri, Bhopal
Bhopal , MP
Kolar, Bhopal
Minal Residency,bhopal
Near Aura Mall,bhopal
Harekrishna Market,bhopal
Awadhpuri,bhopal
Ankur Complex,bhopal
Nadra Bus Stand
Ayodhya Bypass Road, Bhopal
Jawahar Chowk, bhadbhada road Bhopal
Ashoka Garden, Bhopal
Ashoka Garden, Bhopal
Opp.to Mansaroval Complex
Jaipur, Rajasthan
Mansarovar, Jaipur
Gopalpura, Jaipur
Amit Nagar Circle
Makarpura
Franchise Success Stories
What our

CLIENTS Say

If you want to start business in tea shop then yewale amruttulya is best opportunity

All staff is co-operative and it is best place to decide business future..
Let's

Connect
We would love to take you through the Franchise selection process, the prerequisites, location, investment and returns efforts and partnership details. All you have to do as a first step is to fill out the form below and sit back, and we'll reach out to you as soon as possible.